I really enjoy the ambiance of candlelight.  For whatever the reason, I relax and slow down.
In the summer, especially up  here in the north where it stays light so much longer, candles just don't work well.   We've had such a cool summer that it has felt like October weather.  I'm starting to think of hot soup simmering on the stove, candles lit around the living room and a good book, all while I'm wrapped in an afghan.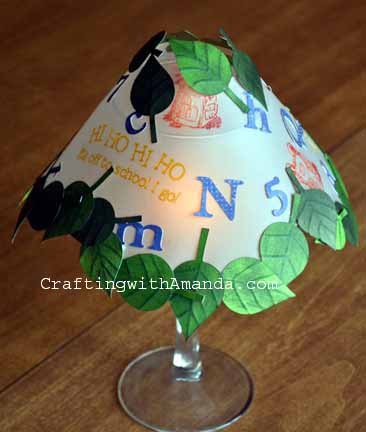 Where is this leading you may ask?  Each year I look forward to pulling out my wine glass candle shades, and  I typically make one or two new shades each fall.  As I was on a tractor this afternoon I started planning my fall design and decided that I would share my pattern and instructions with my blog followers.
If you have the Art Philosophy cartridge, you will have an easy time putting these together.
I scored a whole box of wine glasses at a flea market for $3, so I've been creating many of these for hostess gifts, thank you, or just because.  Like I said quick and easy.
One tip if you stamp on your vellum and emboss it, it is better to go slow and take a little longer to "melt" the embossing powder than to burn the vellum and have to cut it all over again.  (Not that I have ever done that!)
Here are the written instructions as well as the printable cut out pattern if you don't have a cricut. Happy Crafting!




by