I like to use cardstock in my quilling projects, so that means I have to cut my own strips. For best results,  this has required me to plan ahead and use my big Carl rotary paper cutter.  It's a great cutter,  but big, heavy,  and not at all transport friendly.   I have tried other cutters,  mostly fiskar brands,  and have had some success,  but they were more for making a few strips to finish a flower or shape,  but not good enough for lots of strip cutting.   This has now changed!
Close to my Heart is now offering this cutter by Fiskars.   It uses a "rail" for the blade to run on giving much more stability and consistency in cuts.   It's size is the same as my, now old to me, cutter, so it will fit and travel the same.  Yeah!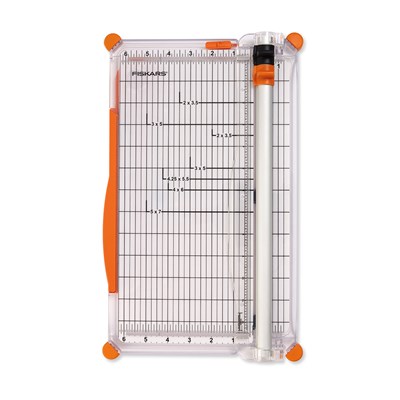 Pros:  (as I see them)
Can cut over 6″ pieces for scrapbook & cards without opening the arm.
Cuts 3 sheets of Cardstock with little effort (will cut 4 but you must press hard)
Small 1/8″ or 3/16″ cuts are consistent and repeatable quickly.
I can see exactly where the cut is going to be without a wire distorting the view.  (This was wonderful when I was cutting some journal labels for a scrapbook project.)
Blade has a nice size tab to hold on to for moving the knife through the paper.
Cons: 
Doesn't use the blades I have purchased for my other cutters so I have to wait for them to go on sale.
I will probably learn of some more pros and cons as I continue to use the cutter,  but for today I am thrilled with the accuracy and ease of cutting multiple sheets of cardstock!  I haven't used it much for card making or scrapbooking yet,  but I am truly looking forward starting!
Happy Crafting!




by