If you are jumping in on this post series,  you might want to see all the techniques,  and you can find them here. You also might be interested in knowing that one lucky winner (USA only) will received the set of tags I created and photographed for this series.  (Information at the end of the post!)
Background Stamping & Sanding Cardstock
Sponge Backgrounds & Crinkling
Today's techniques are ones I don't use often,  but they definitely make a statement on my project when I do.
The first one is Water Mist.  This is done with a stamp, ink & some water in a fine mist spray bottle.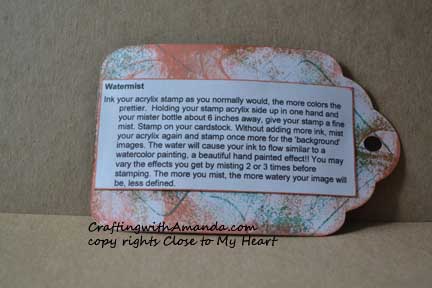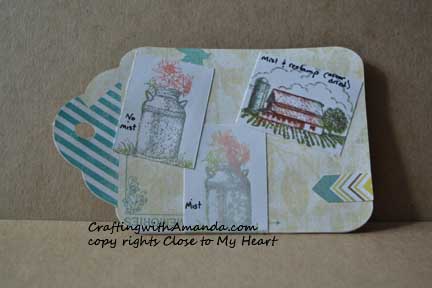 The next one is fabric fun,  and although it adds a lot to a project or page,  I don't do it often as I don't yet have a sewing machine set up or ironing board for that matter.  Hand stitching is not my favorite thing  🙂
Now you might want to know how you can earn chances to win These tags.   There are several ways.  Write a comment on this post.  (1 entry)   Share this post link on your Facebook post and let me know on my FB page Crafting with Amanda that's you've done it.  (1 entry per share).  Like my FB page.  (3 entries)  If you're a pinterest person, for every technique tag you pin, you receive an entry.  (up to 35!)    At the end of the contest I will assign each entry a number and using a random number generator will pick a winner.  I will announce the winner on this blog, and then contact them to get the address where the tag book should be sent.
If you would like a copy of my technique instructions file,  leave a comment with your email and I will send it to you.
Happy Crafting and Good Luck!




by