Hi Everyone,
Haven't fallen off the edge of the world,  just trying to find a family routine working as "single parent" mode right now.  Husband has been given the opportunity to work on a short term project that involves him being away 12+ hours a day.  On the weekends he is then playing catch up with farm work, and I'm still playing house catch up from all the farm work and time helping Mom after her heart attack this summer.   Little insight to me:  I am of the mind the house work will patiently wait for me,  so I try and find a balance between getting projects done (like decluttering rooms) and family time.   So far the declutter projects are losing the battle of my time.
I made this card for my Mom for her birthday.  I was really pleased with it.  Her favorite color is blue,  so of course I choose our new sapphire color.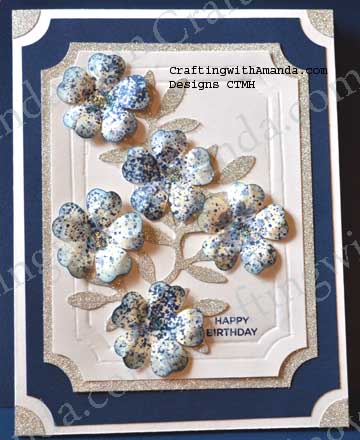 I used the inkblot stamp set on white flowers I cut using the Art Philosophy Cartridge.     Thought it was a good card for Mom to celebrate the anniversary of her birth.
I have lots of cards I've created recently,  and will be posting the workshops on the go from last year's paper packs.  This is more for my ladies,  but you can always copy the layouts using different papers.  😉
Happy Crafting!




by