I'm still in my use up scraps/old paper packs trend, but I am also trying to do some research for my April Crafting Retreat.   So, you can see some paper from the Emporium paper, but I'm mostly focused on the vellum flowers.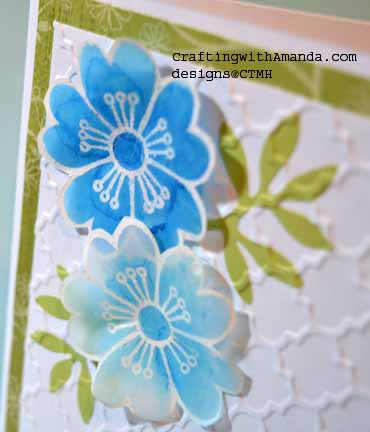 Here is a close up shot.  I'm not sure if you can see it, but I stamped versamark ink on vellum and covered with white (or silver) embossing powder.  Being careful to not overheat the vellum, I set the powder with my heat gun then fussy cut out each of the flowers.  (I did 4 silver and 4 white)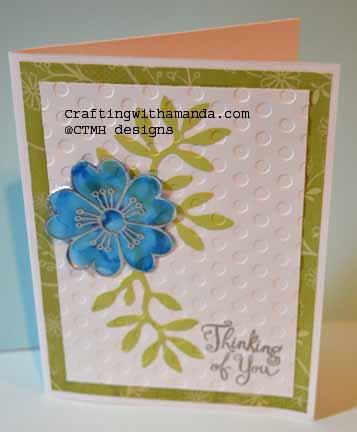 I then played with our alcohol markers and colored on the back (side without the embossing) with Z2449 Cerulean Blue light.  Some I colored lightly and others with many "layers" of ink.  After I added the color, I tried and move some of it with the blender pen.  I really didn't like this.  Ideally I would have liked a mister with rubbing alcohol, but all of my spray pens had ink/color in them, so instead I used a dropper and "dropped" rubbing alcohol on the back of the flowers and let gravity pull it around to the edges.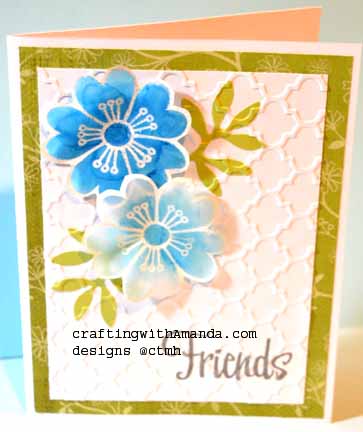 I  hope to revisit these vellum flowers (hopefully finding a flower punch that coordinates with a cricut cartridge so I don't have to fussy cut).  Instead of a dropper, I'll be prepared and have a spray pen available to "move" the alcohol marker ink.
That's it for now.
Happy Crafting!




by