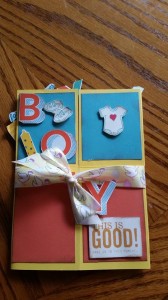 It was brought to my attention that I could post the instructions for these cards.  We used the Card Makers Magazine (Winter 2014) instructions and I'm sure I can't post those here.  Copyright laws and all.  So, I found another set of instructions at Split Coast Stampers.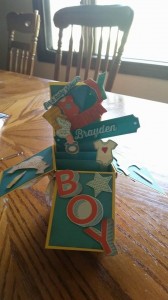 This card was created by Erica and she took a baby shower invitation she received, and taking the pieces about carefully, used the paper and embellishments from the invitation to create this card.  I thought is was clever! Here is the card opened.
Can you tell I'm loving these pop up cards!
I sponsored a card sketch challenge this weekend, so I'll post the sketch and my take on it soon!  (It's still packed.)
Happy Crafting.




by