As I mentioned yesterday I had all the pieces cut out to do a second card, so here it is.  I like the brownie points saying, and I swapped out the chocolate rickrack for a twill chocolate ribbon.  Also change the orientation of the card.  I made another envelope for this card as well, but didn't take a photo.  Sorry!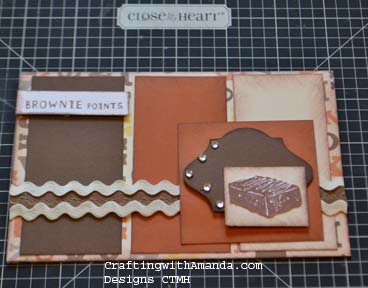 To make both of these cards I used the following supplies:
1 – 12″ x 12″ patterned paper (Babycakes)
1 – 8.5 x 11″ Chocolate CS
1 – 8.5 x 11″ Autumn Terracotta CS
1 – 8.5 x 11″ Colonial White CS
Scraps of White Daisy CS (for stamped images)
Inks: Chocolate, Sunset
1 – red sparkle gem and
10 silver sparkle gems
adhesive tape, liquid glass, liquid applique (see previous post), glue dots, foam tape.
It's raining again today, so I'm trying to be productive in my studio space.  I did manage, with my husband's help, to add a Order Now button for the New Idea Books. I'm also sorting out product that has been delivered and trying to put it away!   They've been sitting in boxes, and I'm ready to play!  Now before you gasp that how could I let it sit in boxes, we have a farm, and they arrived in July.  It's long  days taking care of kids, tractor driving, meals, and trying to stay on top of laundry without worrying about my CTMH goodies.  I will assure you that each box was opened and I pawed through it, but I then went to bed so I could start the next day refreshed!
Time to migrate from the Spring/Summer stamps and supplies to the Autumn/Winter ones.  Maybe for most people that's not too hard, but I have a catalog for my stamped images, so I need to scan all the new stamps of the month, workshops and other stamps sets before I add them to my boxes.  I also need to move all my workshop samples from last fall into my family albums, making room for the new workshop samples for the new paper packs.    Once those things are done I have some general pickup/re-org in the studio (by the way, I use the word studio to describe my workspace not because it's an over the top space with huge tables and well decorated, but  because one of my friends told me that  art is created in studios, and words are powerful.  So, instead of going to my office or craft table, I choose to go to my studio).
Guess I should go to work.
Happy Crafting!




by