Today I've been finalizing my contract for our upcoming cropping weekend.  It's got me thinking about menus, projects and guessing who is going to be able to join us this year.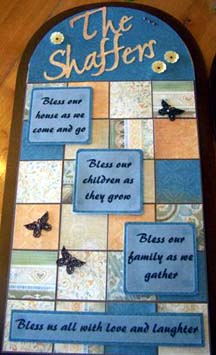 We've grown so much and I know if we had everyone that has ever come we would be maxed out of our space.
It's a smaller weekend (35 max attendees), and I love it that way.  Each weekend we do a card project, a scrapbook project and a home décor or alterable item project.  Here is our home décor project we did a couple of years ago.
In preparation for the weekend I asked everyone to provide me with their favorite 3 CTMH paper packs, keeping in mind the project would most likely be in their home.  Happily I was able to provide everyone with their first paper choice and we made these family blessing boards.
I cut the sir names for everyone and pre-printed the verses on vellum.  They then got to decorate it however they liked.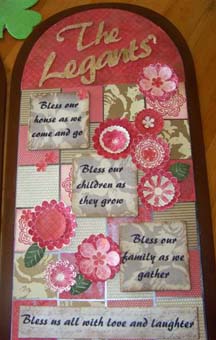 Apparently my "quilt" look was a hit as everyone did a similar layout.  We used the heavy chipboard coasters from the Memory cubes (retired) to hold our verses above our backgrounds.  Everyone decorated theirs a bit differently.
One gal learned a new technique, to her, and created some leaves with a circle punch and a dry embossing stylus.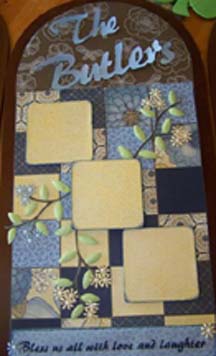 Another regular at my workshops pulled out the Cricut and using Art Philosophy cut out some sweet leaf CS branches and leaves.  She too used her embossing stylus and brought the leaves to life before placing them on her board.
I found these "wine chalkboards" at OTC in their clearance sections.  I love creating thing from garage sale and clearance bin finds!
Not sure what all three of our projects are going to be this year.  I'm sure they will be fun!  If you have any great ideas, please share.  I'm always looking for inspiration.
Happy Crafting!




by