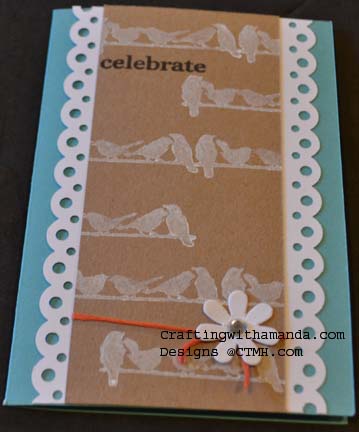 Can you tell I need birthday cards?  I've been making them almost exclusively lately!
This is a straight forward card as far as techniques go, but packs a punch with it's design.  A fellow consultant and friend,  Erica, designed this card for us to create.  She used the Hello Tweety stamp set with Colonial White ink on a kraft cardstock strip.  We used our cricuts and the border from p65 of Art Philoshopy to create the white daisy edges.  Our card base was lagoon cardstock (4×6).  By varying where we started stamping our birds on the wire, we were able to create many different arrangements of the birds together.  I used sorbet string left over from an old sorbet mini medley pack, but bakers twine would work well there too.   Keeping with the theme of using up left overs, the flowers were from a grab bag I received at a crop.
We each created 4 of these cards, but varied the card color for the bases.  It was great getting four more birthday cards to add to my stash.  I really seem to be going through them now.
Hope you have a crafty day!




by