Two more great techniques today! They aren't ones that I use all the time,  but when I do I love the results. (See the information at the end of this blog to learn how you could win all 35 of these technique tags in this series.)
Pockets & Tags (to put in those pockets.) That's what we will talk about today.
Sometimes it's fun to have an "inside joke"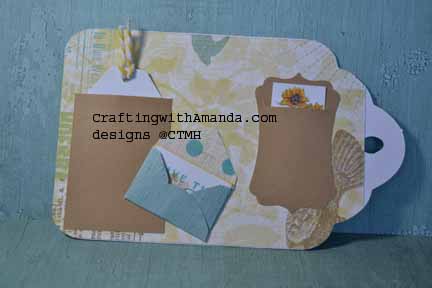 as part of a card or scrapbook page. By using pockets, you can easily accomplish this. There are also times when journaling is very personal, and you don't want to leave it out, but you don't want it displayed either. (Some photos are better in pockets so the squeamish can be protected.)
In this Seaside sample, I created pockets with a simple rectangle glued on three sides, a mini envelope and a shaped cut out in which I cut a slit.
Here's another look with the contents of the pockets pulled out of their hiding places.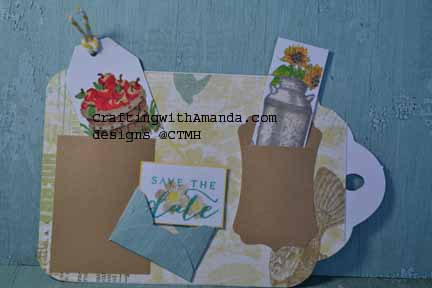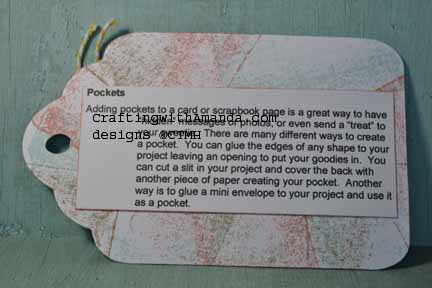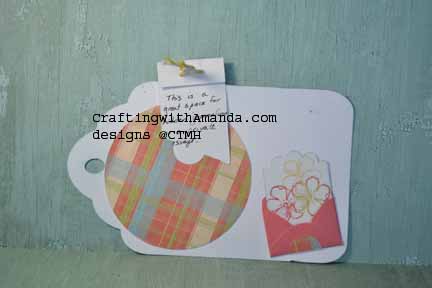 You can also cut a slit in your project itself and line the back with paper to create your hidden pocket. So many fun things to do to create pockets. You can see on my club night tag that I used a circle element to create the base of my pocket. Did you notice the circle punch out in the circle pocket to make it easier to pull out the journaling?
Now that we know how to make pockets, let's move onto tags to put in those pockets.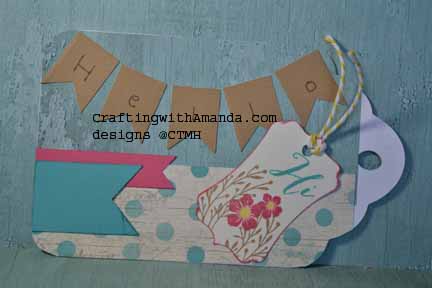 I used tags to make my tag title "Hello" and created a removable bookmark tag as well.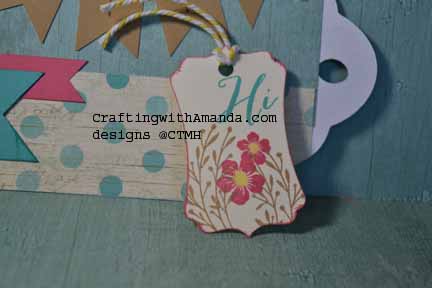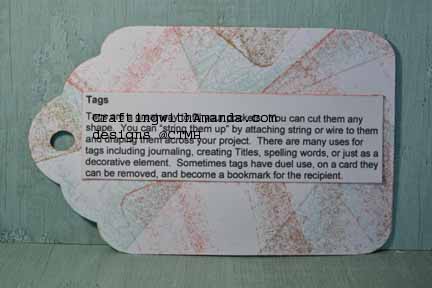 Here are the stamp sets I've used in this example, and many of the other tags that we will be looking at in the upcoming posts:
I also used Seaside papers (X7192B)
Our awesome markers were also put to use throughout this process of creating the technique tags.
I'll leave you with the tag samples from our club night book, and the information how you could win all 35 tags that will be shown in this series of technique tips blog.
Now you might want to know how you can earn chances to win these tags.   There are several ways.  Write a comment on this post.  (1 entry)   Share this post link on your Facebook post and let me know on my FB page Crafting with Amanda that's you've done it.  (1 entry per share).  Like my FB page.  (3 entries)  If you're a pinterest person, for every technique tag you pin, you receive an entry.  (up to 35!)    At the end of the contest I will assign each entry a number and using a random number generator will pick a winner.  I will announce the winner on this blog, and then contact them to get the address where the tag book should be sent.
If you would like a copy of my technique instructions file,  leave a comment with your email and I will send it to you.
Happy Crafting and Good Luck!




by