For Valentine's Day, my husband made a homemade card. This was great for many reasons.  One, he knew where to find the supplies he needed.  Two, he took the time to plan and execute that plan.  And three I have a one of a kind valentine to keep for always.
He can't remember where he saw this project.  I'm guessing Scientific America or something.  Supplies he used:
2 button cell batteries (one for each LED)
2 LEDs
Tube of Electric Paint (conductive)
black pen
Red cardstock
Card base
He drew the robot on the card, then used the conductive paint to connect the batteries (hidden under the heart) to the LED eyes.  He told me, one battery was face up and the other face down so they would be "in series."  He also put a line of conductive paint on the back of the heart so that when you pushed the heart down it would complete the "circuit."   It's a bit technical to me.
Here you can see me pushing the heart with my thumb, and the eyes light up!  In side it says "You make my servos sing."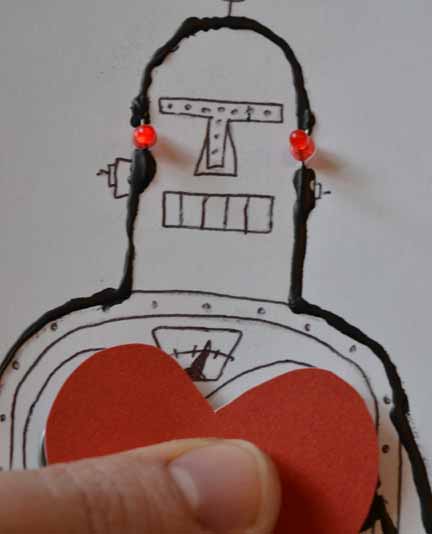 Just so you know, because I have looked it up for you, a servo is a device used to provide control of a desired operation through the use of feedback.
Hope to incorporate some LEDs into my future projects.  Hubby and I are already discussing how many lights we can get to work off of one battery, or if we use multiple batteries if they need to be in series or parallel.   It all has to do with current and voltage, and I'm glad he knows all about those!
Happy Crafting!




by