We're not a full week into 2014, and yet I feel like I might be getting caught up on a few things and will be able to find my crafting table again.  (fingers crossed!)
As some of you may know the new idea book will be released next month, so this month is a preview month for consultants.  In the chaos and fun of New Year's Day, I did managed to place an order.  That means that if I keep focused and get my other "work" done I might find some time to play with the new goodies and might even be able to post a sneak peak here for you all.
In the meantime, I'm going to share the Cloud Nine card kit.  This is a great paper pack celebrating National Paper crafting month.  Don't miss out on your opportunity to get this kit.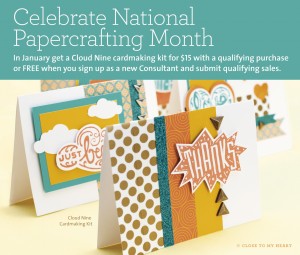 1 – My Acrylix™ Cloud Nine Stamp Set (D-size)
1 – Cloud Nine B&T Duos™ Paper
1 – Lagoon Cardstock Sheet
1 – Honey Cardstock Sheet
1 – 9″ µ 9½" White Daisy Die-Cuts Sheet
1 Roll – Gold Polka-Dot Washi Tape†
1 Roll – Teal Shimmer Trim†
1 Package – Durables Triangle Studs†
10 – Card Bases & Envelopes
1 – Instructional Brochure
Featured colors: Lagoon, Sunset, Honey,       White Daisy
You can get all of this for only $15 with a $35 qualifying purchase (This is a $46 retail value kit).   Bonus is once you order the Cloud Nine kit you'll be eligible for the January Stamp of the Month "Cross-Stitch Wishes."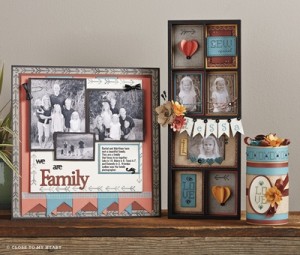 At first I wasn't sure how I was going to use this Cross-Stitch set, as I don't typically do hand stitching,  but my 12 year old daughter has shown me the light.  In addition to using a marker or pen to "draw" your stitches on the stamped image, I used to it stamp on some cotton fabric and my daughter loved creating cross stitched gifts.  I think she is even considering putting together an old fashion sampler and will use the retired stamp set of stitched letters.
Show me what you are doing with the kit or the stamp of the month and you might become a guest artist for the day!
Happy Crafting,
Amanda




by