Yesterday we had a lot of fun at the Frosted workshop.  We started with laughs and ended with contented ahhh's after we each enjoyed a paraffin wax treatment for our hands.
Here's the Layouts we did.  We used the Artist Cartridge for the first layout, and the Arbooking helped with our photo mats on the 3rd set.
Feature Layout:
Next Layout I choose to add Blush Cardstock, but one of the gals choose Smokey Plum.
I used the trees from the Frosted Stickease, and cut some more using the Art Philosphy Cartridge and pop dotted them over the snow covered stickease trees.
I chose a scallop with the trees cut out.  I then glued the frosted grey to the back and using a white gel pen created my own "snow covered trees."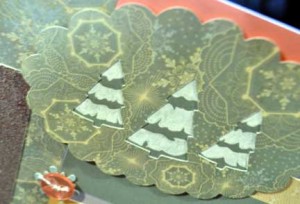 The last layout I wanted to create something that was not "winter" themed so that my gals could visualize this paper pack for something other than winter activities.  I really like how these pages came together.
The pencils on the bottom left corner were created by turning an arrow stamp upside down and inking up the backside of the stamp.  Then wiping the tip of the "pencil" across the ink pad to remove some ink, then re inking the "lead" of the pencil.  It was so easy and I love the results!
Happy Crafting!




by