Well,  here it is the last of the Laughing Lola LOs.  These photos are from our wedding reception almost 18 years ago.  I didn't start scrapbooking until 2007 and as I mentioned in an earlier blog I am running out of printed photos so I'm being forced to use the older ones.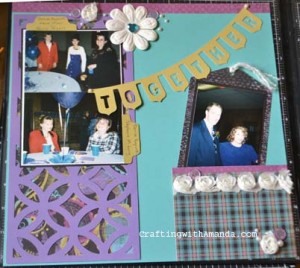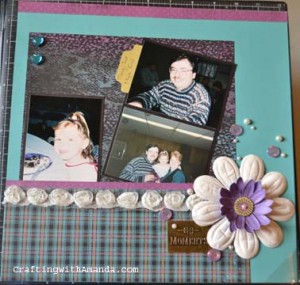 (It's probably a good thing really!)
I used an overlay from Artbooking on the far left and also used the "together" banner for my title. The overlay was cut at 16″ (no real dial size) and ended up being approximatelyl 5.25″ x 11.25″) and the banner was cut at 11″, again, real dial size off.  I didn't have journaling per say for this layout as I have TONS of photos from the reception, but I didn't want to lose the names over time.   I punched out file folder tabs and cut them in half.  I wrote the names of the attendees on the tabs and placed them next to the photos.  Journaling, done.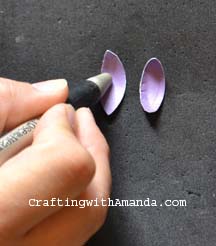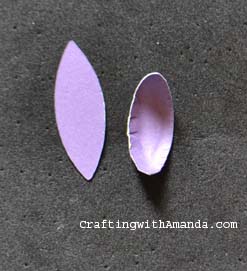 It took several tries to get the correct size for the overlay, so I had many oval "petal" shaped pieces lying around my craft table.  Being the creative maven that I am, I thought, I'll make a flower, so I did.  I first embossed  all the petals using the rub on tool.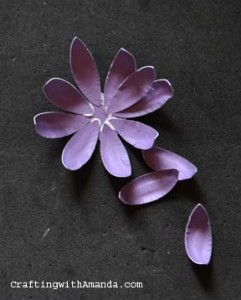 I then attached them to one of the diamond shaped pieces from the overlay.  I would attach them like a compass (one at north, then south, then east, followed by west).  Once I had those one, I would attach more in between each of those and continued to attach petals in this fashion until I had a full flower.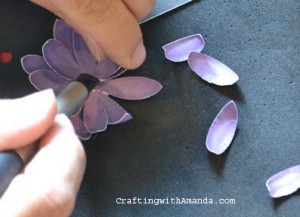 I had a flower from the dimensional elements that was just the right size.  Popped it in the middle and then had to figure out where to place it on my page.
This layout challenged me for some reason.  I tried many different embellishments and layouts until I was happy this the results.  (Having too many, yes, shocking I know, I have too many embellishments, anyhow having too many embellishments can sometimes hamper my creative juices.  Too many choices and all.)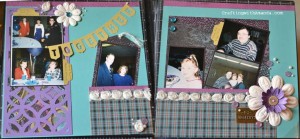 This layout stayed on my crafting table for 3 full days until I ended up with this.  I have done other pages for our wedding album, and they all have pearls, so I think I will incorporate pearls as my thread to continuity in my album.  I might post some of the those pages later.
Wanted to remind you about the Be and Alpha contest and my paper giveaway.  Be sure to enter to win both of these!
Happy Crafting!




by