I got to golf today and it wasn't raining.  This in of itself is unusual for July.  In addition to that, I actually felt pretty good about my playing (other than a couple of shots, I was pleased with my ball striking.)
Next I came home, packed the kids up and we heading to the Sault for some errands.  We had lots of success and they should be ready to head to Grandma's on Friday.  Sunscreen, new swimsuits, new shoes, a sundress for the girl and snacks.  I also picked up some necessities for the house.  With the 95+ temps and HIGH humidity, it was all I could do to bring the bags in and put the few cold items away.  Dinner still needed to be fixed and as I didn't have a kitchen sink I needed to tackle that too.
So, now dinner is over, still missing a kitchen sink, but I decided it was creative time.  I've learned that crafting makes me happy and I'm much nicer to be around when I'm happy!  I highly recommend finding some creative time each day.  It doesn't have to be long, but if I set a timer for 30 minutes I tend to stay focus and get something done!  I have some cards that were cut out for a May scrapbooking weekend, but just haven't had time to assemble/stamp/embellish them.  This was a perfect place for me to start.
I'm making 4 (or 5 sometimes) of each of the cards, so I can just repeat what I did for the first one and wah-lah I have 4 cards ready in no time.
Here is the card. and some instructions.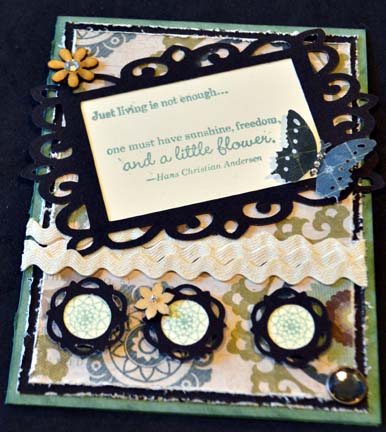 I cut a 4×12″ base (that way you can get three from one 12×12) out of juniper CS and top folded it.  I then cut a
mat that was 3.5 x 5.5 out of black CS.   Using the Cricut Artist cartridge and my gypsy (You can do the same on
Cricut craft room), I modified the image on p60 to be a rectangle rather than a square.  I also cut 3 of the
lacy circles for the bottom, both out of black CS.    I used a 3.25×5.25 piece of paper from the Avonlea paper pack . I used Colonial White CS for my sentiments and centers of my lacy circles.  I stamped a circle flourish with juniper ink in the circles.  I punched a butterfly using a neighbors punch.  You could cut one from the Cricut Cartridge Art Philosophy too.  Added rickrack Colonial White ribbon and using the distressing tool roughed up all the edges of the base papers.  The flowers are  wooden flowers from trinkets wooden shapes.
I'm including the same card using Buzz and Bumble paper, so you can see that too. The base is Sorbet CS.




by