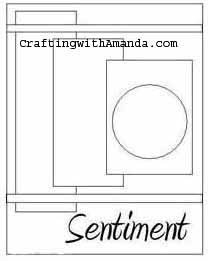 This is the sketch that I gave all the crafters at the Otsego Club Encore Weekend.  They were instructed to use it as inspiration  to create a card.  Other than that, there were no other guidelines.   Unfortunately I had camera/lighting issues and was unable to take photos of any of the cards that were entered, but as I had done a sample for people to see, I was able to retake it when I got home.  So, here is my take on the sketch.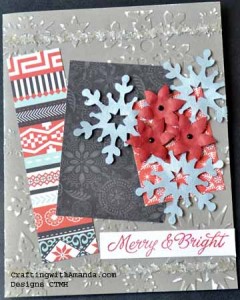 The snowflakes & poinsettias were left over from last year's Christmas card.  The paper is Snowhaven   I used a snowflake embossing folder on my card base front and tilted the papers from the sketch.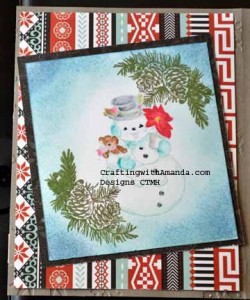 On the inside left I matted the snowman from Christmas Post and framed it with the evergreen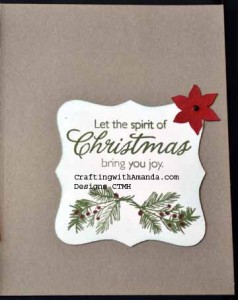 boughs from the  Yuletide Workshop on the Go.  I'm not sure how clear the photos show it, but I did rock and roll the boughs in New England Ivy & Cocoa for the pine cones.
The edges of the white cardstock were sponged in Glacier, Indian Corn Blue and Outdoor Denim.
On the right side, I kept it simpler with two pine boughs, colored the berries with our Shinhan Carmine marker.  To tie into the front of the card, I added another poinsettia.
I'm glad that I made this sample as it allowed some of the other crafters to think outside the lines and we had a tough time choosing the winner!
The winner received a magnabilities necklace and as she had already been to my booth and made purchases as Christmas gifts, she was happy to pick another necklace for herself.
Happy Crafting!