If you are jumping in on this post series,  you might want to see all the techniques,  and you can find them here. You also might be interested in knowing that one lucky winner (USA only) will received the set of tags I created and photographed for this series.  (Information at the end of the post!)
Background Stamping & Sanding Cardstock
Sponge Backgrounds & Crinkling
Accordion Medallion & Baker's Twine
DTP Inking.  Direct to Paper Inking for us that don't do well with remembering what DTP means.  This technique is something I use all the time.   I mean it ALL THE TIME!  It adds depth, it creates interest, it can soften a hard edge or help colors work together by creating a unified hue.  Like I said,  this is a technique I use all the time.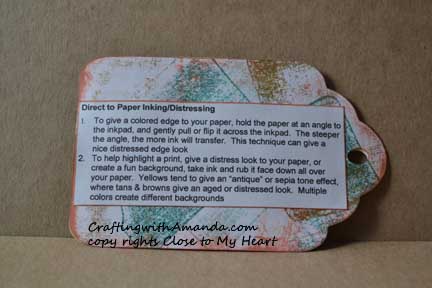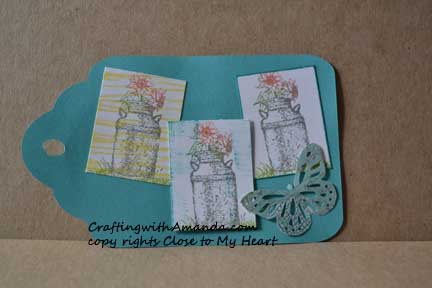 Now, dry embossing is something I use from time to time, and when I do, I love the results.  You can do dry embossing with embossing folders, embedded embossing, or by hand writing words, outlining stamped images, or sanding over a hard object.
Now you might want to know how you can earn chances to win These tags.   There are several ways.  Write a comment on this post.  (1 entry)   Share this post link on your Facebook post and let me know on my FB page Crafting with Amanda that's you've done it.  (1 entry per share).  Like my FB page.  (3 entries)  If you're a pinterest person, for every technique tag you pin, you receive an entry.  (up to 35!)    At the end of the contest I will assign each entry a number and using a random number generator will pick a winner.  I will announce the winner on this blog, and then contact them to get the address where the tag book should be sent.
If you would like a copy of my technique instructions file,  leave a comment with your email and I will send it to you.
Happy Crafting and Good Luck!




by