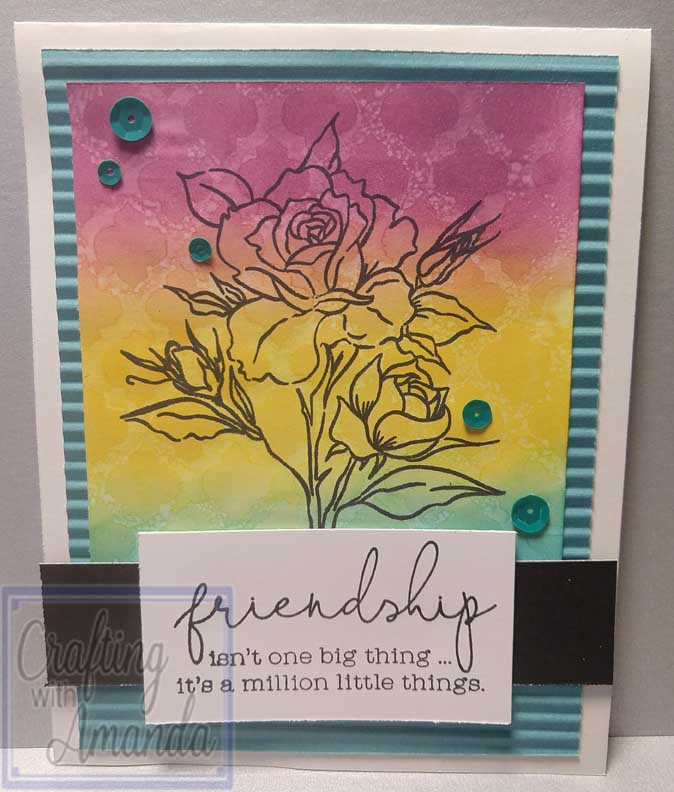 I have long admired those paper artists that are able to pull off mixed media or the grunge look and create something incredible. I struggle to put layer upon layer and hide most of what I did previously and I think because of that I miss the mark with these art forms.
There are ladies that create amazing cards with ink blended backgrounds and I have tried and I have been able to teach others, but my own work did not soar as others did. All that being said, I think Distress Oxides just might enable me to do some creating of my own!
Learning new techniques is a passion of mine and I have been told I dive into with scientific methods. So of course the first thing I did before even opening one of the distress oxide ink pads was to do some research. I watched youTube videos, read what Tim Holtz had to say about the ink and talked to my oldest child who is an artist.
Knowledge in hand, I dug out some paper, tools and a few different mediums to learn how this hybrid die and pigment ink, that reacts with water, would act with different preparations of papers.
I had received a nice set of watercolors for Christmas along with a Watercolor Ground. So I took the ground, borrowed a jar of Gesso from my in house artist and under the recommendation of my eldest grabbed a bottle of basic white acrylic paint. Taking these three mediums, I went about applying a thin layer to 3 different types of white cardstock. The YouTube video goes into more details.
I learned a lot. First, the watercolor ground prepares cardstock to be able to withstand water-coloring and allow more playing with the colors before the paper starts to pill and gives a nice texture to the regular cardstock. It does not however create a good environment for trying to achieve smooth ink blending as the texture works against that. The Gesso and the Acrylic paint however both made blending the inks easier and I felt like if I can do it, anyone can. Plain cardstock wasn't as easy to get a seamless blend, but I did manage it.
Now that I had played with the distress oxides ink, it was time to see what water did to it, and then find ways to apply the water in different patterns. The card at the very top of this post is my favorite. I sprayed the back of a stencil and pressed it on the inked cardstock. You can see the details and I really like it. I feel it could be a gateway to adding more textures and layers.
I even got out my crimper to add some texture behind the feature imagine. If I would have thought of it, I should have ripped the crimped cardstock to really kick it up a notch! Maybe next time.
Here's another card I did. I pulled matting cardstock and the stripe of yellow for the background along with the black cardstock scrap to balance the stamping of the flowers. This is one of the samples that was sprayed with water and created all the faded water marks.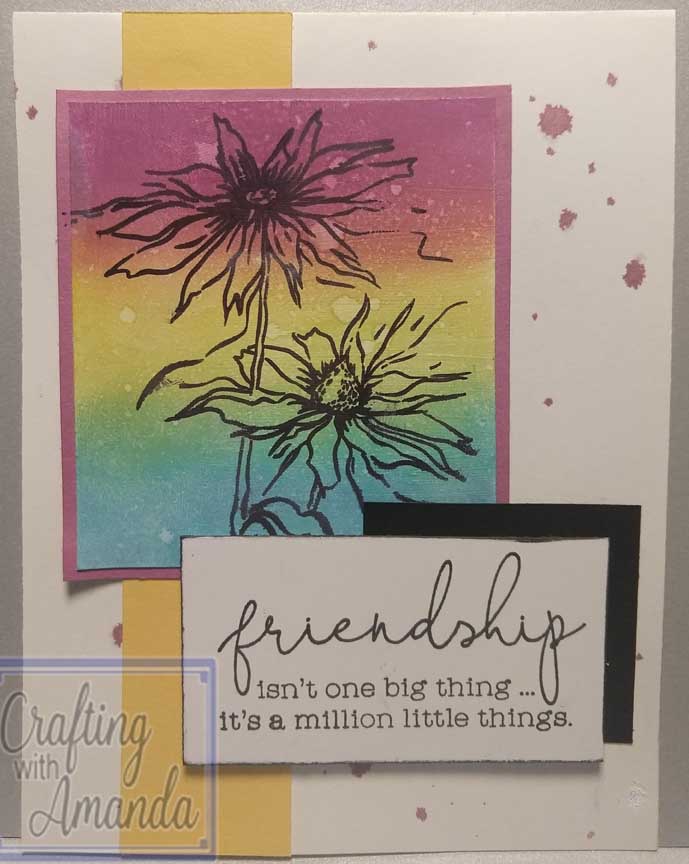 I'm looking forward to creating more inked backgrounds and finding new color combination. What is your favorite thing to do with distress oxides? I would love to try another new technique!
Happy Crafting!