If you are jumping in on this post series,  you might want to see all the techniques,  the links are just below.  You also might be interested in knowing that one lucky winner (USA only) will received the set of tags I created and photographed for this series.  (Information at the end of the post!)
Background Stamping & Sanding Cardstock
Sponge Backgrounds & Crinkling
Accordion Medallion & Baker's Twine
Fill Negative Space & Generation Stamping
I was slow to get on the washi tape train.  Now that I've been awaken to the wonder of washi,  I look for ways to use it so I can justify buying more.   (I'm sure no one else has this problem.)
So my first sample uses washi to enhance, cover, and change embellishments.   If you look you can see one button plain and one covered with washi tape. I used the same washi to accent the ticket & create a fun little "flag" on a pin.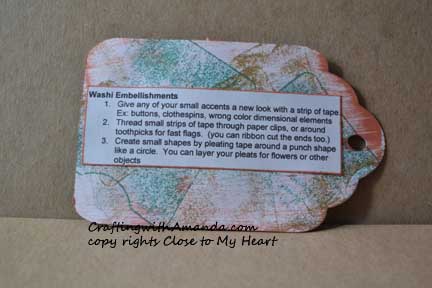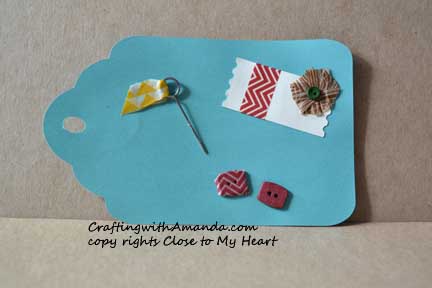 In the next sample.  I use the washi tape as a journaling background, a way to change an ugly embellishment & as a frame.   This is only the beginning of uses for washi.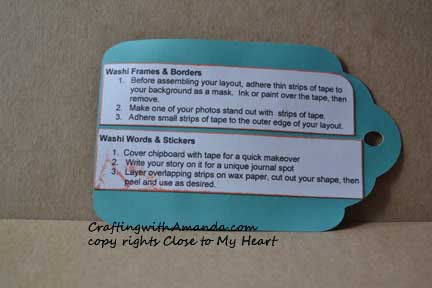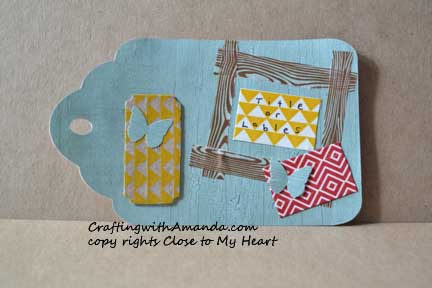 Hope you are able to justify buying some more washi tape soon!
Now you might want to know how you can earn chances to win These tags.   There are several ways.  Write a comment on this post.  (1 entry)   Share this post link on your Facebook post and let me know on my FB page Crafting with Amanda that's you've done it.  (1 entry per share).  Like my FB page.  (3 entries)  If you're a pinterest person, for every technique tag you pin, you receive an entry.  (up to 35!)    At the end of the contest I will assign each entry a number and using a random number generator will pick a winner.  I will announce the winner on this blog, and then contact them to get the address where the tag book should be sent.
If you would like a copy of my technique instructions file,  leave a comment with your email and I will send it to you.
Happy Crafting and Good Luck!




by