Hi,
The haying isn't completely finished,  but I've found some crafting time to wind down at the end of the day.   Some of these cards  combine paper packs and I will try to include the names for you!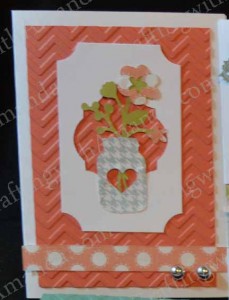 This card uses some of the new Zoe paper and cuts from Artistry.   I have been using up scraps lately and so it was refreshing to cut into a whole sheet of NEW paper!  Before I forget to include them,  here are the stamps that I used on these cards.   C1605 Happy to Be Friends  & S1508 Framed
Here are some other cards that combine Zoe, Artistry and some Blossom Paper too!
There are some artistry cuts on each of these cards. Chalk It Up makes a cameo appearance and Pathfinding too.  The sunflower was cut using the Art Philsophy cartridge.
And for good measure I will throw  some other cards that I made this past week.
Happy Crafting!




by