After Nine years with CTMH,  I've accumulated a LOT of left over bulk papers and club night project partial kits and such.  I have also received gifts from friends and family of non-CTMH product.  (Shocking I know!)  So,  in my "de-clutter life" campaign,  I've decided to use these papers and embellishments.
I will try to indicate which paper I've used.   I had taken a photo of my craft table with a pile of scraps,  but then my teenage daughter started a planner and added to my pile so it's actually bigger now than when I started.
I'll start with a OSW (one sheet wonder) project that I started.  Like I said earlier,  I have TONS of extra bulk paper,  and instead of using one pattern paper and adding cardstock,  I paired multiple paper packs.
Avonlea and Florentine combined beautifully in these cards.  I used a pattern I found on Pinterest.  Unfortunately  it didn't pin correctly so I don't have it anymore  🙁
Here are two more sets of One Sheet wonder cards from 6×6 papers.  I used Bulk Roxie for both sets and then Seaside in one and Balloon Ride in the other.  I also found a pack of die cut flowers that I used to embellish them.
Now these next cards are truly just using up bits and pieces that were in SEVERAL locations around my studio.  Some were from name tags I made for my April Crop weekend and others are from a weekend crop I attended 2 years ago!  Yikes.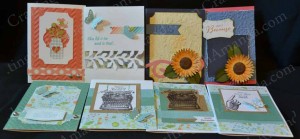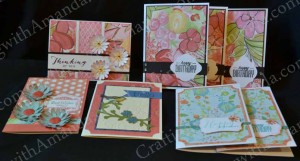 If some of the cards were similar I stacked them inside each other for the photos.  I think I have 44 cards that have been created from scraps and "old" paper and embellishments.  (All during haying too!)    I know I'll have more.  This has been a great wind down in the evenings for me.
Happy Crafting




by