Well,  I should be working on the next scrapbooking workshop, but after I finished Timberline, I decided to play with the newly arrived Embossing folders.    I have to say, I am loving them!
I don't know about you, but I have a few (hundred) old paper packs laying around that have been opened and most of the papers used, but still too much left to allow me to discard them.  So, I grabbed one,  and decided I was going to use as much of the paper that was in it that I could.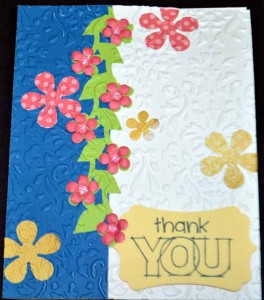 I grabbed a couple punches, (I didn't want to get my cricut out as my craft table is still half covered with other projects, and I know that would never happen at your house!)  my ebosser and the new embossing folders.  I also snagged my card stock scraps bag and went to town.   I started by simply punching some flowers and vines and layered them on the card bases.  I was just playing, so I dry fit several cards then glued down my designs and ran them through the ebosser.  After they were embossed, I added the sentiment and some of my dry embossed flowers.  ( how to dry emboss )
Would love to see your project if this inspires you!
Hopefully you can see more of the details  🙂   Also, I used up EVERY last piece of paper from my Dotty for You paper.   How cool is that?!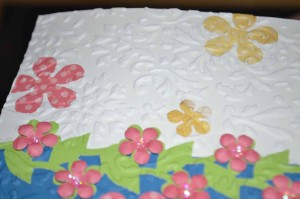 Happy Crafting!




by