Well, I we are still playing catch-up here, but slowly step by step we are making progress. So, I purchased some individual rolo candies and some chocolate kisses. I stacked three rolos and topped it off with one kiss. I used glue dots to help hold the stack together. I then took a 1 7/8 x 3 1/2 piece of goldrush card stock and ran it through a crimper. I wrapped the candy stack (using adhesive runner on three sides of the goldrush card stock) and then added our message and punched heart with the name of the recipient on a ribbon. Whipped these together in about 1 hour and then made a few more for a spa day I had at the house yesterday. Everyone loved them. The tag says "I'll get right to the 'point.' Happy Valentine's Day!"
I don't belive the pre-k kids understood, but I'm sure they loved the candy.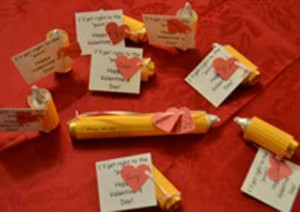 Sorry for the blurry photo.  It was the best one that I got before I packaged them up and sent them to school!  (When I looked at it on the camera I thought it was fine, but perhaps my eyes were too blurry!)
Happy Crafting!




by