Well, I made it back from leaving the kid's at my Mom's house.  Her root canal got postponed a day, but I'm sure everyone will be just fine.  The kids loved going to VBS today, and were already looking forward to going tomorrow.
As the house is quiet, I decided to continue the assembly of the card sets from my May weekend.  (I'm getting closer to being caught up with my UFOs, unfinished objects.)
So, here it is.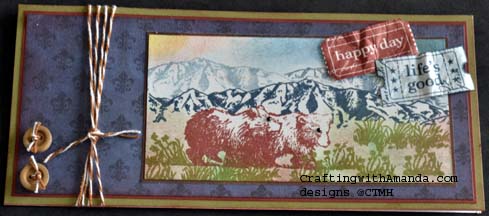 I used a retired stamp set, one of my favorites, called raccoon and friends. To get the bears to be in front of the mountains, I used a technique called masking.  I will try and explain what I did.  First I stamped the bears on a scrap piece of paper and trimmed closely around the image.   After I trimmed the image I used the two way glue and applied it to the back of the cut out piece.  I then stamp the bears in Chocolate ink on my project.  Making sure the two way glue had dried and was not repositionable, I covered the stamped image of the bears on my project.  This allowed me to ink up the mountains in outdoor denim and stamp them on my project.  Using the same masking technique as the bears, I masked the first (darker) mountain range and without re-inking the stamp stamped the mountains again.  This made them lighter in color (2nd generation stamping) and once again pushed them behind the first mountains.  I removed the masks from the mountains and the bears and proceeded to stamp the grass.  I used sponges to create the colorful sky.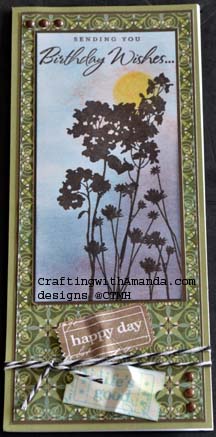 Here is another example using the same sized pieces, but arranged vertically.  I used masking in a different way on this card.  I punched a 1/2″ circle out of CS and after swirling some honey ink, I placed the circle on the honey ink then used sponges to create the sky background.  After I was done and removed the circle mask,  I got a sun behind my silhouetted flowers.
I am squeezing in my crafting time right now, but soon I will start taking photos of the process (and use stamps that are available to order, sorry).
Have a crafty day.




by