The sun is still shining so I am outside makin' hay. Literally in my case.
Thought I would share another one of the cards we did at our last club night.  I really like this one, and as it uses cut outs from the CTMH Cricut Art Philosophy cartridge, it was easy to prep for everyone!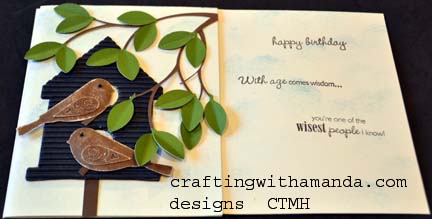 I used the bird  and wing from p51  and cut them out of Chocolate CS.  I used the sanding block to "ruffle" the birds feathers and also used the end of the rub on tool to break some of the fibers in the body of the bird so it would "puff out" a little.  Once it was puffed I attached it to the card using foam tape.
The Branches are from p35 in 2 sizes (don't recall the size, sorry) and the leaves were cut off the branch with leaves on p43.  I then creased the leaves down the center to give them more appeal.
The bird house in used on this card was from a free set I picked up at a craft show, but for club night I used a solid arrow(p64) pointed up, trimmed the shaft of the arrow and added a strip along the bottom for a base.  You can trim the points of the arrows to really make it look like a real bird house.
I sponged "clouds" with sky ink (what else)  to make the words look like they were in the clouds.
Have a great day!




by