Hi Everyone,
I'm back and ready to show off some of the work I've been doing, but more exciting some of the work my crafting gals have been doing!
At our weekend retreat I normally do a couple of different projects.  This time the scrapbooking project was to use the new CTMH Cricut Artbooking cartridge and create a layout (or card if they are exclusive card makers).  I'm still working on editing all the photos, but as I've been so busy  and haven't posted anything, I thought I would give you a few to look at now.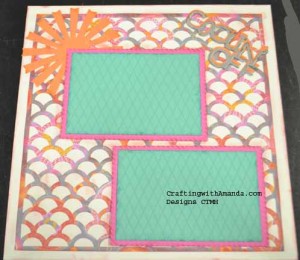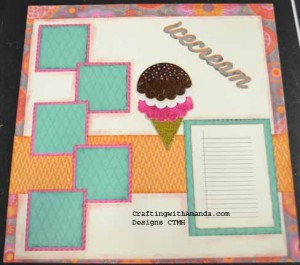 Pat W used the Dotty of You paper and created this great layout to showcase her granddaughter (who is so photogenic) eating ice cream.  She didn't have the photos with her for the weekend, but I can easily see how well this layout is going to look once she adds them.
Next we have Joanne
She didn't use mats for where her photos are to go, but you can see the 2 "film strip" pieces work well with the photo mats she choose.  I have each of the crafters a paper pack that included some bling.  Joanne used the black tulle like a ribbon around a package.   Love the little "bugs!"
The next crafter doesn't own a 12″ cricut yet, so she had to think outside the box to come up with this lovely layout.
Marybeth did a great job with picking colors to work with her photos!  Love the stand of trees too.  Some were shadowed behind the others.
I bet you're looking forward to seeing the next batch of pages that were done.  Love the artbooking cartridge with it's versatility, but also with it's ease to create beautiful layouts (and cards) quickly!
Happy Crafting.




by