The Craft with Heart (CWH) card kit is great. If you assemble them following the directions that come in the kit, you will have 24 cards that cost less than $1.85 per card (yearly subscription). How great is that?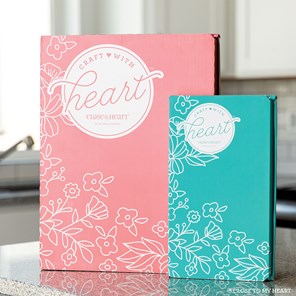 If you fall in love with the patterns on the card bases, you can do what I did and cut them apart and make many more cards adding your own supplies. For one set of the cards (the kit makes two of 12 different cards), I limited the supplies when making the first half to items I think most crafters will have on hand. See the first set of slightly modified cards here.
For the second set of 12 cards, I decided I was not going to limit myself and just create. Sometimes the mojo works with me, other times it doesn't. This time, I truly enjoyed the process of creating these cards.
I got all these from the first card base! I added some cricut cuts, (pink flower, leaf & greenery) Silver and outdoor denim Cardstock. I did pull out my scrap envelops and pulled some of the matting colors from that.
Cards 2-5 didn't call to me like some of the others, so I just added some more embellishments (cricut cuts, hearts, sprays of leaves. . . ) and silver cardstock for a wow factor.
The card on the left is very close to the original card #6 in the kit instructions, but by cutting back of the base off, I was able to create two more cards.
I absolutely loved the leaves on card base 7 and I had to cut the back off of the card base and stretch it to make multiple cards. (I also went back and cut it off the back from the original slightly modified set too!) As you can see I really had some fun playing with Cricut cuts, die cuts, embossing folders, silver cardstock matting, punches and more. The blue plaid paper was a scrap from another base (10?).
Here are the last few No-Limits CWH cards. (Cards 8-12) I truly enjoyed playing with my tools, using up scraps, and just going for it.
Hope you find some time to add some crafting joy to your day!